Discontinued article.
Information on the discontinued articles
Product expires on 31.10.2020
This item is being replaced by
8618820
EMC gland plate for VX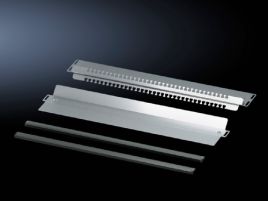 Close
Product description
For shielded cables with a maximum diameter of 20 mm in conjunction with standard gland plates.
The product was added to your wishlist
No. of packs*
* Pack of sale = 1 pc(s).
+ Product description
Description:
For shielded cables with a maximum diameter of 20 mm. Combined EMC/IP seal provides low-resistance contact between cable shield and gland plate. For all 400, 500, 600 and 800 mm deep enclosures in conjunction with standard gland plates.

Material:
Sheet steel

Surface finish:
Zinc-plated

Supply includes:
Cable clamp strip with hammer-head punching
1 sliding gland plate
2 IP/EMC gaskets

To fit:
Width: = 600 mm

Packs of:
1 pc(s).

Weight/pack:
1.8 kg

EAN:
4028177214880

Customs tariff number:
94039010

ETIM 7.0:
EC002620

ETIM 6.0:
EC002620

eCl@ss 8.0/8.1:
27189261

eCl@ss 6.0/6.1:
27189214

Product description:
TS EMC gland plate, W: 600 mm