PDU international, managed version
Model No.
DK 7955.433
Discontinued article.
Information on the discontinued articles
Product expires on 30.06.2020
This item is being replaced by
7979437
PDU managed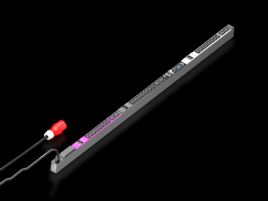 Close
Product details
High-end IT rack power distributor: Intelligent PDU with CAN bus interface for use with CMC III or PDU managed, switch function and energy data logging per output. Input with CEE connector (16 A/32 A) with C13 and C19 outputs.
+
Product description
Design:
PDU international, managed version

Description:
High-end power distribution in the IT rack with energy measurement and monitoring functions for each individual output slot Thanks to the compact PDU, any IT rack is easily equipped with a professional power distribution system The TS IT rack even supports tool-free assembly. The compact design allows simple assembly. The installed bistable relays and OLED display keep energy consumption in the PDU low. An integral Web server offers a direct network connection with extensive user administration functions. Redundant power is supplied from all phases and additionally via an existing Power over Ethernet network. The PDU offers extensive management and monitoring functions. Measurement accuracy of 1% guarantees a high level of reliability. The PDU has a CAN bus interface for connecting slave PDUs. Ambient monitoring is also possible with up to 4 CMC III sensors (temperature, humidity, access, vandalism).

Material:
Aluminium section, black anodised

Protection category IP to IEC 60 529:
IP 20

Standards:
EN 60950-1

Directives:
EMC Directive 2014/30/EU
Low Voltage Directive 2014/35/EU

Variant:
Measurement and monitoring functions per output slot, switched

Sockets:
24  x IEC 320 socket C13  - Black 
6  x IEC 320 socket C19  - Black 

To fit:
Enclosure type: TS IT
Height: ≥ 2000 mm

Dimensions:
Width: 44 mm
Depth: 85 mm
Length: 1685 mm

Infeeds:
Qty.: 1
Phases per infeed: 3~

Length of connection cable:
3 m

Ambient conditions:
Operating temperature: +0 °C...+45 °C
Storage temperature: -25 °C...+70 °C
Ambient humidity (non-condensing): 10 % - 95 %

Circuit-breaker 16 A (qty.):
6

Type of electrical connection:
CEE

Rated current (max.):
32 A

Packs of:
1 pc(s).

Weight/pack:
8,15 kg

EAN:
4028177685420

Customs tariff number:
85366990

ETIM 7.0:
EC000330

ETIM 6.0:
EC000330

eCl@ss 8.0/8.1:
27142604

eCl@ss 6.0/6.1:
27142604

Product description:
DK PDU international, managed version, Measurement-/monitoring functions for each slot, switchable, WLD: 44x1685x85 mm, 24xC13, 6xC19, black, CEE, 3~, 32 A