Industry services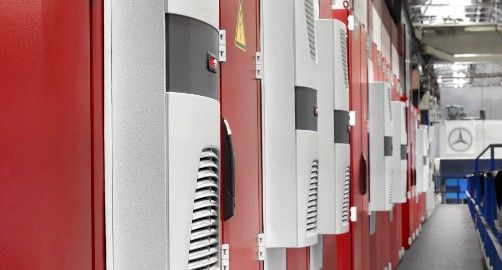 Reducing downtime, equipment failure
and energy use
Industry service can help you reduce overheating

Why is electrical enclosure cooling important?
Interruptions to production due to tripping or failing control components are costly
Temperature affects the correct operation and service life of electrical equipment
High temperatures that lead to tripping or failing control components are avoidable
80 % of component failures may be addressed with a suitable cooling solution

What is a thermal survey and how can it help you?
Components at risk from high temperatures are identified
Necessary cooling capacities/strategies and other improvements are recommended
Skilled engineers collect data using data loggers and thermographic equipment
Information and findings are presented in a written report

A health check of your cooling equipment includes:
Inspection by our experts
Reliable information regarding the actual condition of your devices
Efficiency calculation with potential savings and payback periods
Realistic proposals to improve value retention and energy efficiency
Service suggestions and offers tailored to your site

Survey prices*:
Half day, including summary of findings and recommendations - on request
Full day, including full written report - on request
* Reduce the cost of a survey by using our free thermal labels and sending the results to us for analysis.

Effective servicing of cooling units leads to:
Lower enclosure internal temperatures
Extended service life of installed equipment
Reduction in unplanned production downtime and its associated costs

Are your process chillers up to the job?
As part of a RiAssure3 survey, any process chillers are also inspected
Inadequate chilling of process cooling fluids could also impact production
Check now if your chillers are charged with R22 refrigerant
The use of R22 refrigerant was effectively banned on 1 January 2015

Rittal supply chillers for process cooling and can advise on:
Capacity requirements
System design
Redundancy
Energy saving technologies, e.g. free cooling, inverter controlled compressors